Project-Based Solutions
TowerEye verhuurt niet enkel materiaal, door onze ervaring in alle sectoren kunnen we verder denken dan een standaardoplossing.
Wenst u een integratie op uw huidig netwerk, tunneling, combinatie van AV gerelateerde protocols, etc.Zo ziet u maar, te veel om op te noemen, vraag ons naar een oplossing.
---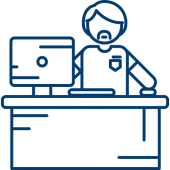 On-Site Engineer
At your request, you can count on the expertise of an on-site TowerEye engineer. They will ensure on-site monitoring and immediate assistance with any technical issues.​